Salomo great fit for small purpose
Salomon is designed for gastations as an electrical shelter or for industries to accomondate computer etc. to register in and perform documentation (truck scales, etc).
Salomo shelter often is delivered with socle that also works as a cabel well. Delivery and installation time of the shelter is only from 1 h  – 2 h even with excavations for the plinth included it will take maximum a day.
Shelters are designed and manufactured by Harri Haavikko Oy.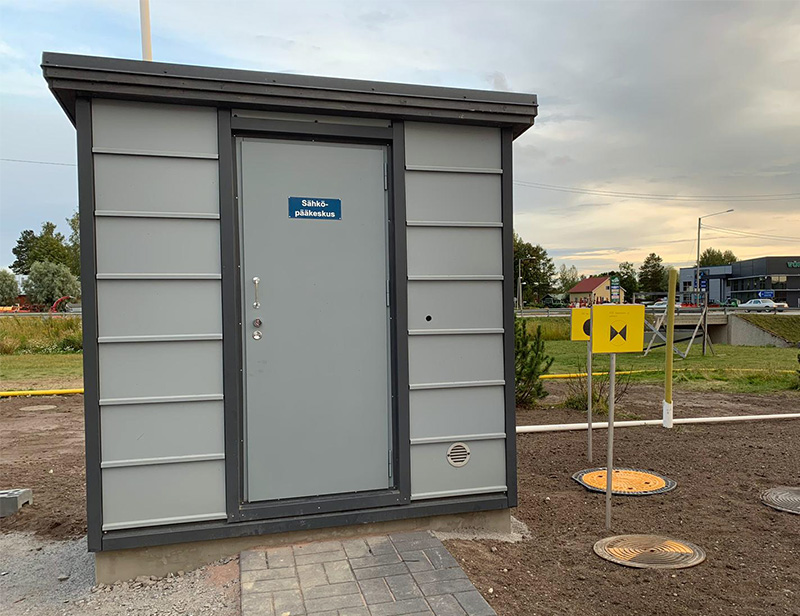 Salomo shelter in a nutshell
Shelter into tight spaces and small shelter needs.
All you need in small package. Ready to play just drop and rock.
Personalice our own space
Shelter can be spect out to meet your brand or vision of future. We are willing to meet your reguirments.
Accessories for Salomon
In small space we manage to offer great deal of operational space. Capel well offers that extra convenience and functionality to have an well operating shelter over its lifespan.
Cost effective protection
Durable, functional and high quality. Long-lasting equipment shelter brings cost savings in the longer term.
Salomo technical specifications
Dimensions
Outer width 2,4m
Outer depth1,2m
Outer hight (max, with socle) 3,4m
Inside hight(minimum) 2,2m
Surface area 2,9 m²
K-Value 0,39
Fire Class P3 / EI 30
Sandwich panel construction
Wooden frame
Outer surface sheet metal
Inner surface plywood 9 mm with laminated white surface
68 mm insulation
Color from RR- or RAL -color maps
Accessories
Electicity, lightning, climate control, cabel ways cut throughs. Custom made installation by the specific needs.