cRoom - equipment shelters for industrial use
We have designed and developed an intelligent equipment shelter which are the solution to the needs of the industrial space.
cRoom – equipment shelters are technical units assembled from high-quality materials that represent a new type of solution for the needs of industrial hardware. Applied facilities with patented structure are inexpensive and high quality units.
Appliance space is used in a construction site site that requires a container, a central inverter, a control room, a site cabinet, a storage cabinet, a mobile work space, a telecommunications facility, a warehouse or social facilities.
cRoom is an energy-efficient and cost-effective package that adapts to your requirements. The unit can be equipped, for example, with a switchboard, automation and process control, staff social facilities, etc.
In addition to the technical features of cRoom, Device Space is a safe, environmentally friendly and affordable package.
Contact our sales team.
cRoom is implemented by Harri Haavikko Oy

Croom - equipment shelter structure
The wall structure of the equipment shelter is manufactured using patented sandwich panel technology, which enables the execution of even demanding objects.
Wall construction features include:
Self-supporting structure
Extremely lightweight, only 5-7 kg / m²
Suitable for food industry
Does not absorb moisture, ie no hydrogen
Also allows for curved shapes
Good thermal insulation
Ecological, materials recyclable
Low energy requirement in manufacturing
Small carbon footprint
Made in Finland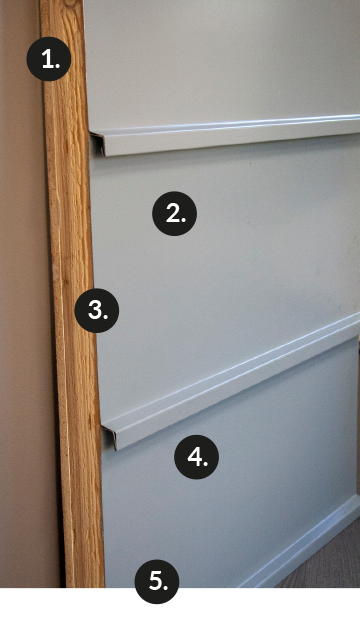 Unique features of the cRoom
The frame of the wall structure is made of steel, aluminum and wood.

The material used is sheet metal, fiberglass and plywood.

Multilayer structures are also possible.


Element construction made of polystyrene insulation, thickness 30-150mm, which can be used for making cables.

The size of an individual element can be 3.5 m x 15 m.

Energy efficient and fire safe construction.

hermal transmittance (U-value)

 0,16-0,66 W / F and fire class P3.

Wall construction weight 5-25 kg / m2.

The structure is hermetic, ie it is airtight.




Dimensions of cRoom equipment shelters:




2550 x 1330mm




2700 x 1400mm




3995 x 2550mm
Interested in hearing more about the cRoom ?